CONGRATULATIONS to [from left to right] Theresa Seipel, Tara Svatora, Mike Goos & Casey Spitz.
This afternoon they were sworn in,as the newest advocates for CASA Connection, by the Honorable Frank J. Skorupa.
It was wonderful to see their friends and families who attended to support them.
We are grateful that they stepped up to advocate and be the voices for abused/neglected children in our area who are removed from their homes. Please welcome them to the CASA family. If you are not part of the CASA Connection volunteer family but would like to learn more please contact Lisa or Susie at 402.563.4944 or email Lisa Rosendahl at casacoord@gmail.com.
A big THANK YOU to Gail Farmer from 1C Church in Columbus for bringing us a donation of "Cuddle Buddies" made by the 1C Women's group. These adorable "Cuddle Buddies" will be given to the children our volunteers work with. Thank you for that very thoughtful gesture!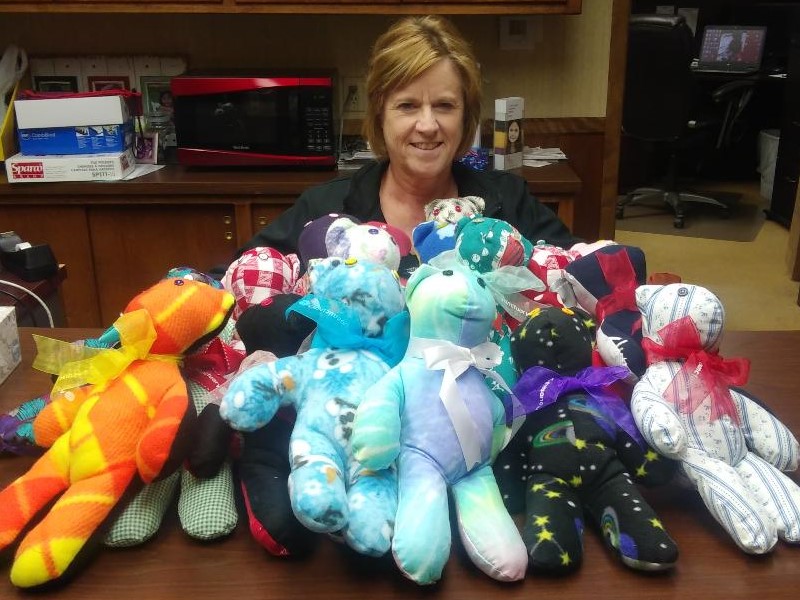 Thank you to the customers of Cornhusker Public Power District for your contributions to the Cornhusker Goodwill Fund. Lisa Rosendahl recently accepted a check presented by one of the trustees of the Goodwill Fund, David Scharff. This donation will be used to purchase birthday gifts for the children we serve.
Third Quarter 2019 CASA Connection Newsletter

Summer/2nd Quarter 2019 CASA Connection Newsletter

Spring/1st Quarter 2019 CASA Connection Newsletter

2017 Third Quarter CASA Connection newsletter
Winners of the 2019 "I'm a Little Cutie" baby contest held this past weekend during Columbus Days.
Thank you to everyone who participated! One of our judges, mentioned that it was harder than he thought it would be. Thank you to those awesome judges: Sheriff Ed Wemhoff, Denise Kollath and Vanessa Oceguera, event helpers Renee Held and Lisa McFarland. A BIG thank you goes to Wal-Mart for sponsoring the event.
The winners are: 
0-6 months
* First place: Isabelle Lay. Parents are Cody & Elizabeth Lay
* Second place: Emberleigh Donoghue. Parents are Scott & Courtney Donoghue
* Third Place: Bentlee Jarecki. Parents are Brian & Jennifer Jarecki
7-12 months
* First place: Ocean Izaguirre. Parents are Oliver Izaguirre & Marjorie Figueroa
* Second place: Ellie Mae Wachal. Parents are Steven & April Wachal
* Third Place: James Channer. Parents are Nathan & Marina Channer
13-18 months
* First place: Palmer Carlson. Parents are Luke & Stephanie Carlson
* Second place:Stelyos Leander Trevino.. Parents are Alfredo & Elida Trevino
* Third Place: Atlas Cyza. Parents are John & Kathy Cyza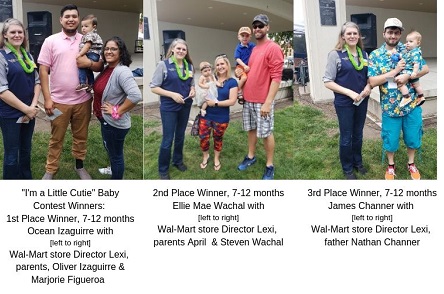 Need your caffeine fix? Are you looking for a unique volunteer opportunity? CASA (Court Appointed Special Advocates) serves as a voice for abused & neglected children in foster care in our community.
Join us, Friday, August 2nd from 9 am to 11 am at 38th Street Coffee [4115 38th Street], for our upcoming Coffee with CASA Meet and Greet.
Lisa Rosendahl will be there with an information table to answer any questions you have about CASA and you can get some great coffee at the same time. The coffee shop will be open during this time. For more information visit https://casaconnectionne.com/how-to-help/volunteer.html or
contact Lisa Rosendahl: casacoord@gmail.com
New CASA volunteers, from left to right: Kim Schmidt, Joy Dannelly and Carrie Kreber were sworn in by Platte County judge, The Honorable Frank J. Skorupa on Thursday, June 7, 2018. Congratulations ladies!