Letter from the Executive Director
Like every other organization in the world, we are closely monitoring the evolving COVID-19 spread locally and world-wide.
At CASA Connection it is very important to know that the safety of our volunteers, board members, staff and the children we serve is our utmost #1 priority. We are determined to take prudent measures to help keep people safe, while attempting to avoid panic and continuing to fulfill our critical mission.
We have taken the following actions:
* Staff is working remotely, when possible.
·* The office building is locked down and no one can enter the building until phone contact has been made and an appointment is deemed necessary.
* In-person visits have been suspended and have been replaced with phone calls, texts, emails or video chat when possible.
·* If volunteers feel an in-person visit is needed for the safety of a child, please contact the Executive Director so the issue can be resolved.
·* Case supervisors will keep in contact with the volunteer and share all pertinent information to keep everyone updated on the assigned cases.
* Volunteers should contact the Executive Director if the children they are advocating for are in need of food and/or basic items.
·* Staff is working to put together online training options for the volunteers in pre-training as well as some for on-going training.
The need for CASA volunteers do not go away at times like this. In fact, we may be called on as more children become victims of overwhelmed parents. This is a difficult time for everyone, and children are not excluded.
In a time of isolation, loneliness can become overwhelming. Use social media to stay in contact with your family and friends. Please take this time to better educate yourself on the facts of COVID-19; but remain calm and have faith in our leaders, as despite many opinions, they are working hard to keep all of us safe.
With that, I will ask each of you to please remain safe, stay home when possible, and look out for your elderly neighbors and friends. Help out when you can, heed the warnings from the CDC and local government, and we WILL all get through this together.
Susie Jarecki
Executive Director
CASA Connection

The Cheers for CASA event scheduled for April 17 has been POSTPONED UNTIL FURTHER NOTICE. If you have already purchased your tickets for the event your money WILL be refunded to you.
We will look for a new date to hold this event once efforts to control & contain the spread of Covid-19 has been achieved & the concerns of the public has happened. 
Join us for The 4th  Annual Cheers for CASA wine & beer tasting on
This 21 & over only event features light appetizers and a variety of beer and wine tastings for $20. Additional wine, beer, & water are also available for purchase.
Enjoy a fun evening while supporting a great cause— CASA Volunteers advocate for abused and neglected foster children in our communities, and your donations help us recruit those volunteers!
For more information email casacon@yahoo.com or call 402-563-4944. 
This form stopped accepting submissions on April 17, 2020 6:00 pm CDT.
CONGRATULATIONS to [from left to right] Theresa Seipel, Tara Svatora, Mike Goos & Casey Spitz.
This afternoon they were sworn in,as the newest advocates for CASA Connection, by the Honorable Frank J. Skorupa.
It was wonderful to see their friends and families who attended to support them.
We are grateful that they stepped up to advocate and be the voices for abused/neglected children in our area who are removed from their homes. Please welcome them to the CASA family. If you are not part of the CASA Connection volunteer family but would like to learn more please contact Lisa or Susie at 402.563.4944 or email Lisa Rosendahl at casacoord@gmail.com.
A big THANK YOU to Gail Farmer from 1C Church in Columbus for bringing us a donation of "Cuddle Buddies" made by the 1C Women's group. These adorable "Cuddle Buddies" will be given to the children our volunteers work with. Thank you for that very thoughtful gesture!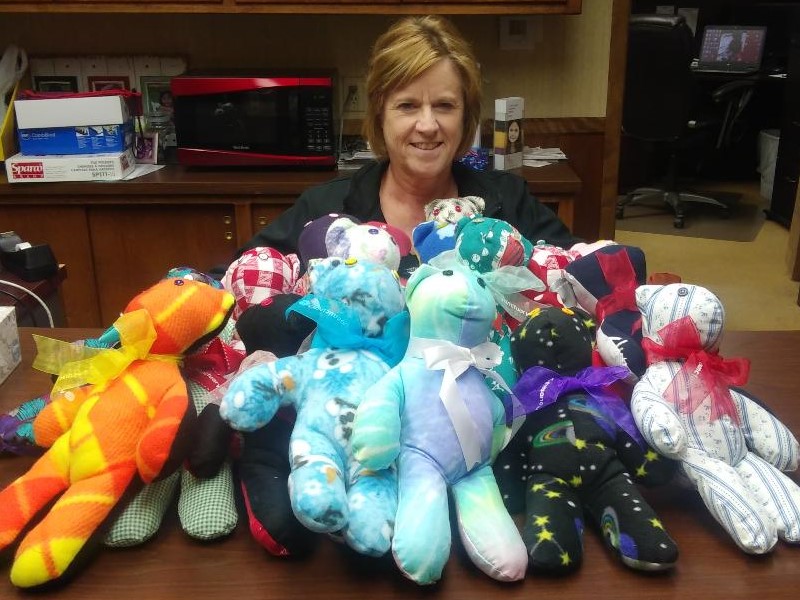 Thank you to the customers of Cornhusker Public Power District for your contributions to the Cornhusker Goodwill Fund. Lisa Rosendahl recently accepted a check presented by one of the trustees of the Goodwill Fund, David Scharff. This donation will be used to purchase birthday gifts for the children we serve.
Third Quarter 2019 CASA Connection Newsletter

Summer/2nd Quarter 2019 CASA Connection Newsletter

Spring/1st Quarter 2019 CASA Connection Newsletter

2017 Third Quarter CASA Connection newsletter
New CASA volunteers, from left to right: Kim Schmidt, Joy Dannelly and Carrie Kreber were sworn in by Platte County judge, The Honorable Frank J. Skorupa on Thursday, June 7, 2018. Congratulations ladies!