CASA Connection is proud to make a difference in the lives of children who need a safe place to live. We would not be able to do what we do without our volunteers. Check out some of our pictures from past events.
Thanks to all of our helpers from Friday evening's 2019 Cheers for CASA wine & beer tasting event.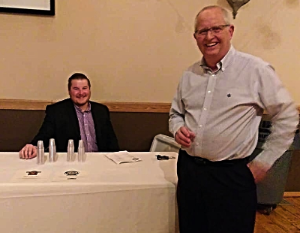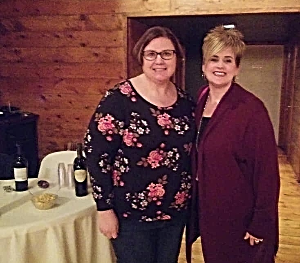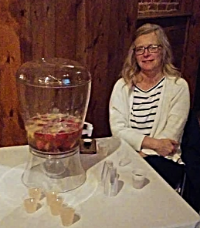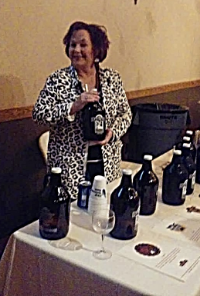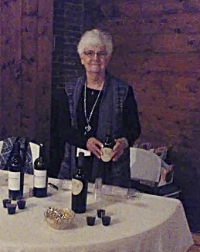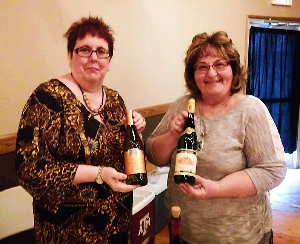 Thank you to everyone who attended CASA Connection's 2019 Cheers for CASA wine & beer tasting fundraiser held Friday, March 29. Despite forecasts of rain/sleet/snow Mother Nature kept it at bay so everyone could come out and enjoy the evening. The event was held at Henry on 11th which is a building full of history in downtown Columbus.
Guests enjoyed samples of various red and white wines, white sangria & beers provided by Granite City Brewery, Upstream Brewing Company and Gottberg Brewery. Along with the beverages appetizers such as smoked salmon, cheeses, meatballs and small desserts including raspberry mousse were included. Everyone who attended seemed to have a good time and declared it a hit and something to look forward to next year.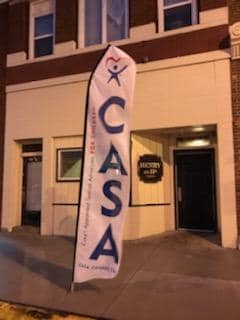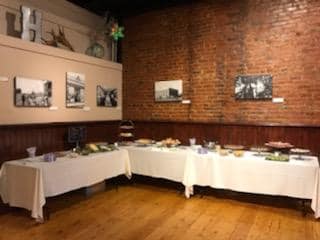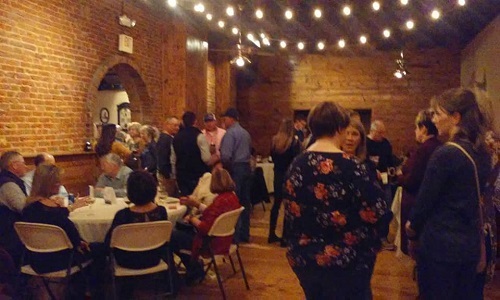 Just a few of the guests enjoying themselves during our Cheers for CASA event on March 23, 2018.

NBC Today Show Correspondent, Jenna Bush Hager, was one of the Main Stage presenters during the National CASA Conference held March 10-13 in Boston. Currently she is the chair of UNICEF'S Next Generation, an initiative dedicated to reducing the number of preventable childhood deaths around the world. Jenna proved to be as real and entertaining in person as she is onscreen.

Another of the Main Stage presenters during the 2018 National CASA Conference held recently in Boston was Adam J. Foss. Mr. Foss is a former Assistant District Attorney in the Juvenile Division of the Suffolk County District Attorney's Office in Boston. He is an advocate for criminal justice reform.

CASA Connection staff members Susie Jarecki-Executive Director and Lisa Rosendahl-Outreach Coordinator enjoyed the opportunity to attend the 2018 National CASA Conference held in Boston.

Working Together For Their Best Interests was the theme of the 2018 National CASA Conference.

While at the National CASA Conference in Boston our staff & other conference attendees got a chance to see what a true East Coast nor'easter storm is like. "Not your typical Nebraska snow storm." Here is a view from the Prudential Center attached to the hotel we stayed at.

Congratulations Wendi Petersen

Congratulations to CASA Connection Volunteer Advocate Wendi Petersen. Wendi was recognized by the Columbus Area United Way as an Outstanding United Way Partner Agency Volunteer. Columbus Area United Way Executive Director, Pat Heimes, presented Wendi with the award during the Champions of the United Way Annual Meeting & Outstanding Volunteer Recognition Luncheon held February 21, 2018. Congratulations Wendi!!! We truly appreciate all you do for the children we serve!!!!!!

Cheers for CASA event

SECOND ANNUAL CHEERS FOR CASA Featuring Beer & Wine from Around the World. Friday, March 23, 2018. 6:00-10:00 p.m. Event will be held at Henry on 11th. Adults 21 & over only. Tickets: $20 each, tastings & Lenten friendly appetizers provided.
For more information or to purchase tickets call CASA Connection: (402)563-4944.

Join us for our second annual beer & wine tasting event, and help us raise funds to recruit more volunteers to advocate for abused & neglected children in our area!

Several of our Volunteer Advocates, including Jeanne Quinn & Jamey Price attended a presentation given by our Outreach Coordinator, Lisa Rosendahl on Thursday evening. Lisa spoke about Vicarious Trauma and how it can affect volunteers. The group shared ideas on self-care and positive coping mechanisms.
Second Annual Cheers for CASA event